Specializing in medical/health psychology, adult, children and adolescents, anxiety and depression, and family relationship problems.

Dr. Hughes' Schedule:
Tuesday and Wednesday
9:00 am – 5:00 pm
(Last appt at 4:00 pm)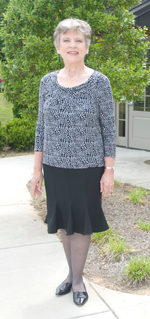 Warm, friendly help empowering individuals and couples to sort out problems, improve communication skills, and better manage their lives. Setting and successfully working toward personal goals is central in therapy. Emphasis is on building confidence and interpersonal harmony.
Dr. Hughes has had special training and experience in Health/Medical Psychology (improving health and dealing with the stresses of physical illness and disability).
Practice specialties or interests include working with patients experiencing depression/anxiety, stress management, relationship issues, sleep problems, life transitions, parenting issues, grief, workplace/career problems, teen stresses, eating disorders, and anger management.
Dr. Hughes has been a licensed psychologist for more than twenty-five years. She holds a Ph.D. in Counseling Psychology from Georgia State University and completed her internship in Medical Psychology at the University of Texas Medical Branch in Galveston, Texas. Dr. Hughes serves on the Medical Staff of the Northeast Georgia Medical Center.
Age specialties: Children (5 years and older), Teens and Adults (including senior citizens).